I recently met with Max de Roy to discuss life and art. This human is magnetic, it was a joy to spend some time.
Enjoy the read.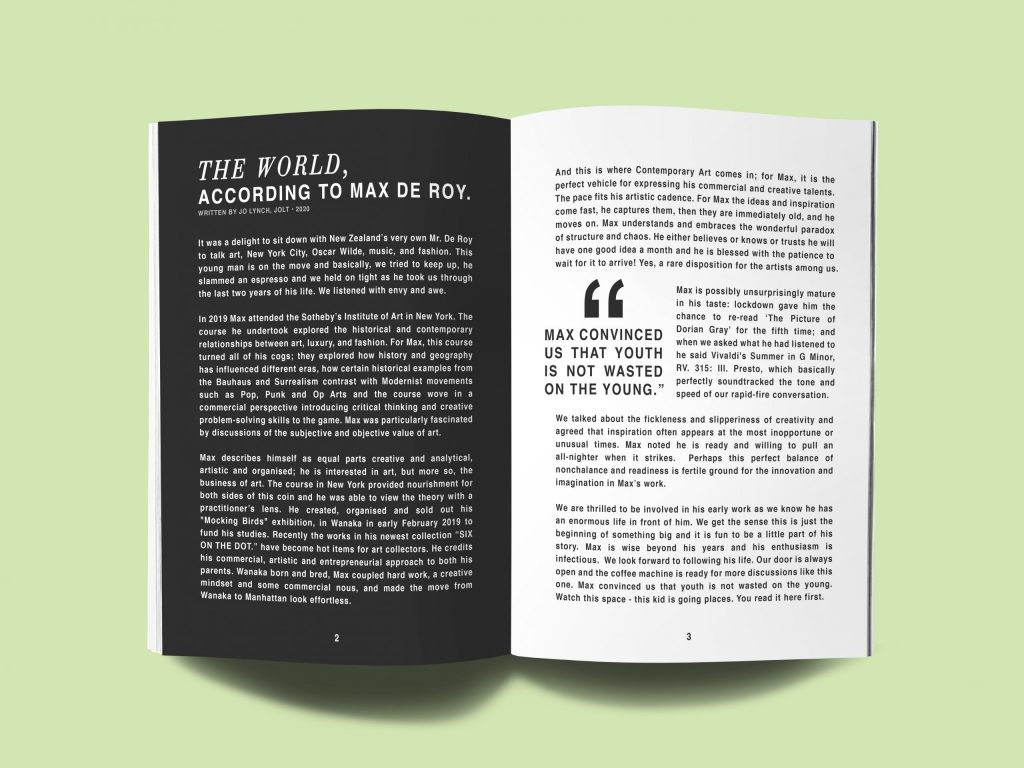 It was a delight to sit down with New Zealand's very own Mr. De Roy to talk art, New York City, Oscar Wilde, music, and fashion. This young man is on the move and basically, we tried to keep up, he slammed an espresso and we held on tight as he took us through the last two years of his life. We listened with envy and awe.
In 2019 Max attended the Sotheby's Institute of Art in New York. The course he undertook explored the historical and contemporary relationships between art, luxury, and fashion. For Max, this course turned all of his cogs; they explored how history and geography has influenced different eras, how certain historical examples from the Bauhaus and Surrealism contrast with Modernist movements such as Pop, Punk and Op Arts and the course wove in a commercial perspective introducing critical thinking and creative problem-solving skills to the game. Max was particularly fascinated by discussions of the subjective and objective value of art.
Max describes himself as equal parts creative and analytical, artistic and organised; he is interested in art, but more so, the business of art. The course in New York provided nourishment for both sides of this coin and he was able to view the theory with a practitioner's lens. He created, organised and sold out his "Mocking Birds" exhibition, in Wanaka in early February 2019 to fund his studies. Recently the works in his newest collection "SIX ON THE DOT." have become hot items for art collectors. He credits his commercial, artistic and entrepreneurial approach to both his parents. Wanaka born and bred, Max coupled hard work, a creative mindset and some commercial nous, and made the move from Riverbank Road to Manhattan look effortless.
And this is where Contemporary Art comes in; for Max, it is the perfect vehicle for expressing his commercial and creative talents. The pace fits his artistic cadence. For Max the ideas and inspiration come fast, he captures them, then they are immediately old, and he moves on. Max understands and embraces the wonderful paradox of structure and chaos. He either believes or knows or trusts he will have one good idea a month and he is blessed with the patience to wait for it to arrive! Yes, a rare disposition for the artists among us.
Max is possibly unsurprisingly mature in his taste: lockdown gave him the chance to re-read 'The Picture of Dorian Gray' for the fifth time; and when we asked what he had listened to he said Vivaldi's Summer in G Minor, RV. 315: III. Presto, which basically perfectly soundtracked the tone and speed of our rapid-fire conversation. We talked about the fickleness and slipperiness of creativity and agreed that inspiration often appears at the most inopportune or unusual times. Max noted he is ready and willing to pull an all-nighter when it strikes.  Perhaps this perfect balance of nonchalance and readiness is fertile ground for the innovation and imagination in Max's work.
We are thrilled to be involved in his early work as we know he has an enormous life in front of him. We get the sense this is just the beginning of something big and it is fun to be a little part of his story. Max is wise beyond his years and his enthusiasm is infectious.  We look forward to following his life. Our door is always open and the coffee machine is ready for more discussions like this one. Max convinced us that youth is not wasted on the young. Watch this space – this kid is going places. You read it here first.